In an exclusive interview with Telecom Review, Jawad Jalal Abbassi, Head of Middle East & North Africa at GSMA, provides valuable insights into the current state of 5G deployment and adoption. Here, he discusses GSMA's initiatives to enhance cybersecurity and build digital trust in the region. Abbassi also explores the significance of GITEX AFRICA being held in Northern Africa for the first time and its potential impact on the continent's digital transformation and tech ecosystem. As a prominent figure in the telecommunications sector, Jawad believes that technology and innovation play a crucial role in driving economic growth and social development in Africa.
How do you view the current state of 5G deployment and adoption, and what are some key challenges hindering its widespread implementation?
Demand for 5G networks is growing, and we expect to see a natural progression from 4G networks to 5G ones. The GSMA's Mobile Economy MENA Report 2022 found that 4G adoption is projected to peak in 2023 as consumers increasingly migrate to 5G plans. The current adoption rate of just 1% is expected to grow to 17% by 2025. MNOs will also increasingly plan to switch off of 2G and 3G networks, especially if regulator bodies allow spectrum re-farming.
To incentivize the deployment of telecoms infrastructure, we need to see robust regulatory frameworks that are conducive to investment. This infrastructure holds the key to economic recovery and future resilience by enabling a greater number of people and organizations to engage in the digital economy. Regulatory frameworks will require forward-looking spectrum policies, roadmaps, fair prices and technology-neutral licenses to support the growth and adoption of 5G.
And, while 5G is nothing new, customer adoption remains hindered by a handful of barriers — including affordability, security and digital literacy. Many are waiting to see the full benefits of 5G before upgrading to 5G-enabled handsets or data plans. If we are to overcome these barriers, operators, vendors and governments must come together to further invest in education around the benefits of transitioning to 5G networks and highlight the benefits of digital inclusion for customers.
As the graph shows, as of December 2022, on a quarterly basis from launch, 5G has seen a much faster initial uptake than 3G and 4G.
Three years after commercial launch, the 5G share of total connections was in double digits, compared to ~4% for 3G and 4G.
Key drivers include:
Rapid rollout in large markets such as China and the US
Rapid expansion of the 5G device ecosystem
Strong political support for 5G adoption in some markets, especially in the wake of COVID-19.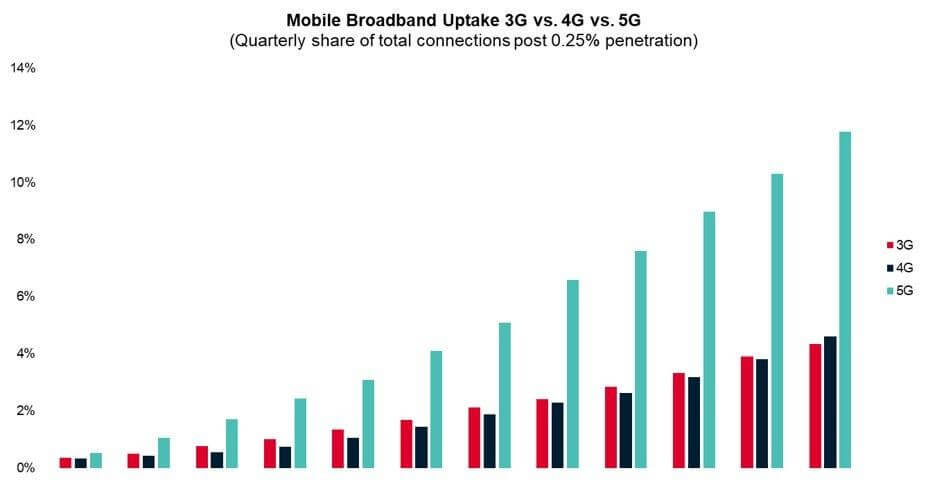 As of December 2022, 35 operators globally offered commercial 5G services on stand-alone SA networks, with the Asia-Pacific region accounting for nearly half of these launches.
A total of 93 operators, including seven in MENA, have also announced their plans to launch 5G SA networks, with 15 expected to launch/transition in 2023.
In total, nearly 130 operators from 56 countries have launched or demonstrated intent to launch 5G SA networks.
As the Head of MENA at GSMA, how is GSMA contributing to enhancing cybersecurity and building digital trust in the region?
Unsurprisingly, due to the rising level of security threats in MENA, this remains one of the main priorities of operators' network transformation strategies.
As cited in the GSMA's Mobile Economy MENA Report 2022, we have seen large-scale data breaches raise the profile of data protection and privacy issues in recent years. In MENA specifically, the average financial impact of a breach is $6.93 million — well above the global figure of $4.24 million.
We are calling upon governments, regulators and the wider digital ecosystem to collaborate in order to: promote transparency and choice; establish trust; and implement "smart privacy" laws that respect and defend privacy rights while enabling innovation.
When people use the internet responsibly and are confident that the digital environment is safe, private and trustworthy, they are more likely to realize the full benefits of a digitally enabled life.
Therefore, the GSMA is working with stakeholders across the region to encourage the implementation of security and data privacy laws while developing policies that permit and protect the movement of data across borders and enable financial services to obtain digital banking licenses. Through empowering GSMA members and stakeholders to build greater digital trust and cyber security policies and protections, the mobile industry will be able to deliver on its ambition to hit the UN's digital inclusion SDGs by 2030, while the MENA region realizes the economic impact of greater trust and adoption.
With GITEX AFRICA being held in Northern Africa for the first time, how do you see this event impacting the continent's digital transformation and tech ecosystem?
It's exciting to have GITEX, a major technology trade show, coming to Africa for the first time in a major acknowledgement of the innovation efforts coming from every nation in the region. Africa is recognized as the world's next biggest digital economy, with an expected investment in tech across the region to rise from $115 billion to $712 billion over the next 25 years.
Beyond GITEX acknowledging the exciting collaboration, investment and innovation across the tech sphere in Africa, the event provides a unique opportunity to take a deeper look at digital inclusion in Africa through the lens of digital transformation. That will also be a major focus of our own African show, MWC Kigali, in October, which has now firmly established itself as the continent's most influential connectivity event.
We're calling upon stakeholders in the region to utilize the world stage that MWC Kigali and GITEX will provide, to showcase Africa's technology ecosystem, but to also call for greater investment, policy frameworks and adoption of mobile networking services. By doing so, the continent will be able to realize its technology industry's power to drive investment and digital inclusion and reap the economic benefits.
How do you see the role of public-private partnerships in helping to bridge the digital divide and ensuring equal access to digital services across Africa?
One of the key digital inclusion issues that the GSMA is focused on is the Usage Gap, which affects 3.2 billion people worldwide, and 61% of the total African population. It impacts those who are covered by mobile broadband networks, but remain unconnected due to various barriers such as affordability, digital literacy and safety concerns that prevent people from using them.
For us to address and overcome the Usage Gap, we're working across our stakeholder ecosystem, collaborating to bridge the digital divide and break down barriers to the access and use of digital services. A key way for us to enable this is through public-private partnerships (PPPs).
PPPs have the potential to drive investment in uncovered areas and leverage the expertise of the private sector, whereas private companies benefit from the guarantee of a viable business model thanks to the certainties provided by the public partner. These models are an impactful way to deploy and operate network infrastructure in areas that may not have the economic potential to attract private investment, which, for rural areas across MENA, is essential to reduce the usage gap and drive digital inclusion.
As a prominent figure in the telecommunications sector, what role do you believe technology and innovation play in driving economic growth and social development in Africa?
We see a huge opportunity for technology to provide digital inclusion and economic benefits to Africa, which is really exciting. As a region with huge growth potential, new innovations hold the power to [advance] social development.
For example, mobile connectivity is enabling rural areas across the region to tap into shared renewable energy sources, mobile money services and online learning. This access, in turn, drives economic growth as well as social development in more rural areas.
On the other side, Africa as a region faces many unique challenges, which technology innovation has the power to address and challenge. We're already forming alliances with the likes of the Africa Centres for Disease Control and Prevention, for example, to work together to use mobile connectivity to track the spread of disease and with the UN to implement early warning systems to provide people with access to safety, aid and clean water in times of need.
Technology lies at the heart of solving many issues faced in the region; it holds the answers to questions yet unanswered. And for me, the most exciting prospect is the potential for innovation we'll see from African entrepreneurs, who have the greatest understanding of the region and what these solutions could look like.