Toni Eid, the CEO and founder of Telecom Review Group, graced the stage as one of the speakers of the physical-only session that highlighted the switch to a cloud native approach in terms of connectivity.
The "Connectivity as a service: Trip to the cloud" session held at Fira Gran Via had two speakers, Toni Eid as well as Patrick Joggerst, CMO of Ribbon. The panelists who were present are Johan Wibergh, CTO of Vodafone; Bikash Koley, VP & head of Google Global Networking (GGN) and head of technology & strategy, Google Cloud for Telecommunications, Google; Sanjay Uppal SVP & GM, service provider & edge business unit, VMware; and Jeannine Peek, CapGemini, Country Leader.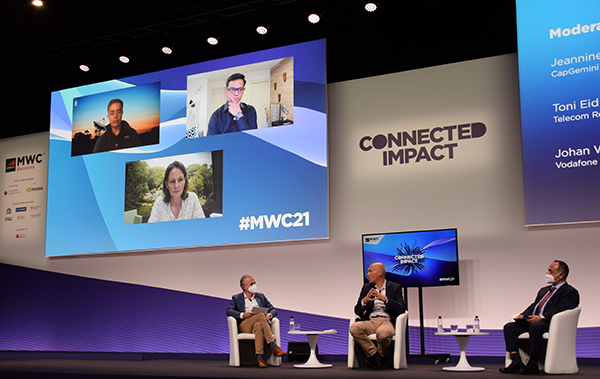 Eid had a five-minute presentation which highlighted the cloud advantage, statistics about public cloud revenue forecast, hyperscale operator capex, and global data center workloads. "The challenges of COVID-19 pandemic accelerated the adoption of cloud services to keep us connected like never before," he emphasized. As a result, top cloud service providers of today — Google, Amazon, Microsoft, and Alibaba — have shown 23-46% revenue growth during Q1 2021.
The $80 billion cloud application services market (SaaS) is seen to be the biggest growth driver in terms of public cloud service, anticipated to be worth $143.7 billion by 2022. Telecom Review Group's CEO and founder also displayed a graph illustrating the traditional move of the apps on the cloud. "The consumer apps are almost totally in the public cloud, search engines are totally in the public cloud, social networking is also the same. Yet, we see business applications still have a big part of the private cloud and this is also due to some regulation of some business categories or some government. This is the reason why we keep it out of the public cloud."
Along with the continuous growth of cloud hyperscalers and the massive demand for cloud usage, the process of enabling independent connectivity is needed to address the needs of the society. According to Toni's presentation, Google, Amazon, and Microsoft all have significant number of subsea cable investments across the globe, connecting Europe, Asia, North America, and Middle East seamlessly.
In line with this, cloud providers have already collaborated with network providers to cater for new market trends in the 5G and IoT era. These include partnerships with Etisalat, AT&T, Ooredoo, PCCW Global, Verizon, Vodafone, and Zain KSA.
When asked during the panel about which of the current cloud trends, particularly edge, no-code/low-code, and further increase of as-a-service business models would be most important and will have the most impact on the network, Eid answered, "As we see during the pandemic, the no-code/low-code trend has already started. Alibaba has increased over 50% of new apps on the Alibaba Cloud as they are all using software with no-code/low-code. This trend makes everything simple as we work from home and it is easy to deploy  and will be very flexible to the cloud."
Moreover, in network innovations, "SD-WAN has flexibility, high-security, protection, and managing is easier especially when you increase the traffic. But always, you need to upgrade your infrastructure. You know it's SD-WAN, not just so you can deploy one, but you have to deploy the whole network. Hence, the whole ecosystem should be agile with the SD-WAN software."
"The world has changed dramatically and the cloud is here to stay. It is the strong enabler that enables a lot of different levels of service. But a secure network is still the fundamental value," said Patrick Joggerst, CMO of Ribbon.
During the session, Sanjay Uppal SVP & GM, service provider & edge business unit, Vmware highlighted that "clients must keep in mind the questions of you don't own anything and you don't know anything. If you build a zero trust architecture, you can reduce the attack surface."
"We are finally getting into an age that the data environment can really make a difference for our customers," Jeannine Peek, CapGemini, country leader concluded.