By Saikat Mitra, COO - network software, STL
In the last decade, public cloud laid the foundation of many companies be it small scale or large scales such as Pinterest, Evernote, Instagram, Netflix, Dropbox, Zynga, GE, Target, Walmart, and Apple. Most CTOs predicted public cloud to be the most innovative technology in the last decade. According to Statista 2021, the public cloud market rose to 236 billion USD in 2020 and was predicted to be 800 billion USD by 2025. Not just that, most analysts predicted CSPs to be the fastest adopters of the public cloud.
So, what happened? Why don't we hear about it much? The truth is unlike other tech companies, CSPs have been the slowest to migrate to the public cloud especially worrying about their operational functions of BSS. So, let's address those common perceptions of CSPs and try to find the truth behind them.
Is public cloud security a troublesome headache?
Public cloud vendors make massive investments in security. Vendors like AWS, Google Cloud, and Microsoft Azure follow very strict guidelines for security and privacy and give full control to their customers. And to sweeten the deal, Gartner has acknowledged that the public cloud has become more secure than on-premise data centers. In this area, AWS leads the way as its most mature holding 34% market share.
Not only that, Mr Rich Mogull, founder/VP of product at DisruptOps and analyst/CEO at Securosis quoted on AWS, "Most core security features are available – from robust API activity monitoring to basic threat intel (Guard Duty), WAF, DLP (Macie), Vulnerability Assessment (Inspector), and security event triggers for automation. Two of the best AWS security features are their excellent implementation of security groups (firewalls) & granular IAM. Today AWS is usually the best place to start, where you run into the fewest security issues."
Just another data center or there is much more to public cloud?
So, moving on to the next paramount concern of CSPs: Is public cloud any different or just another data center? Well, vendors try to play smart by labelling their solutions as cloud-ready, cloud compatible, or stating they are available on the cloud. They also misuse the term cloud-native in referencing their customers who migrated their application to use the public cloud compute power. Tweaking and moving an application or a service to the cloud does not extract the full potential of cloud including speed, scale, and massive savings to operators and it certainly does not mean cloud-native.
So, what is exactly cloud-native? It usually refers to as developed and managed within a cloud environment. For CSPs, to unlock the full potential of the cloud the BSS applications have to be re-engineered as cloud-native and then deployed in public cloud. To make it simple there are certain milestones for the foundation of truly being cloud-native:
Containerization, microservices and CI/CD: The combination of microservices, containerization, and management using a Kubernetes pipeline (CI/CD) allows for fast and automated testing and the rollout of new functionalities without the risk of affecting overall application performance and availability. It also enables the replacement of proprietary software with open-source public cloud tools and technologies, including database, AI, and ML.
Cloud database: Adopting cloud database management allows CSPs to add new capabilities including real-time, online charging or full BSS, horizontal scalability, built-in resilience, automated built-in redundancy, and disaster recovery which is also cost-effective and a fully managed offering.
Open APIs Architecture: This is used to seamlessly connect everything and provides simplified maintenance with greater agility, flexibility, cost efficiency, and faster time to market. This means CSPs can access continually evolving, open source-driven, democratized solutions like new AI and ML applications, which provide inputs such as real-time scoring for customer churn or process optimization, which can be readily enabled by this open architecture.
Productize applications: It means moving away from continually customizing proprietary software to better use of the configurable options in the software available in the public cloud. The idea behind this is to have zero customization and using more of the product's core functionality. This makes it more agile, decreases costs, and helps easily inherit new features released.
SaaS deployment: It is a balanced combination of products with cloud-native architecture using cloud computing with a pay for what you need pricing model. SaaS model provides fully managed services to be run with computing power and compute hosting of the public cloud without the problem of rebuying software and hardware every alternate year. Due to this, CSPs can use special features which were very costly to buy individually and gain commercial flexibility as well.
Of course, it is not that simple and there are many other challenges as well to be truly cloud-native, like:
Which technologies are to be selected for the right purpose?
When to select open-source and proprietary software?
Edge computing segmentation to select which software for far and near edge computing
Lack of technical skillset to implement the cloud-native solution
High operational and technology costs in implementation
And the biggest of all is service integration, registration & monitoring problems
On-premise model and private cloud are more affordable than public cloud?
Moving on to the next perception that public cloud is the most expensive among all solutions. Many vendors including STL Tech have proven that TCO with public cloud is up to 70% cost-effective compared to on-premise and up to 28% compared to private cloud in long run. Catering to enhance customer engagement, STL Tech experts designed a tailored TCO model so that CSPs can evaluate the complete costs of their current on-premise implementations while forecasting future savings on the public cloud just by answering some simple questions.
Moreover, STL Tech cloud experts help CSPs to evaluate the total time taken to migrate their BSS to the public cloud and when they will gain its full benefits. STL Tech consultation also includes helping CSPs explore options and paths for migration with workshops, events, conferences, online consultations, and TM Forum Partner Programs. 
Is public cloud relevant for CSP's business?
The next speculation on the market is that "public cloud is ok but not relevant for business especially for CSPs". This perception in CSPs is due to the fear of losing control over the business and operations of BSS while moving it to the public cloud. In reality, there are much more business benefits of moving BSS to the public cloud. Why am I saying that? Look at the following:
5G portfolio role: Vendors who can merge CSP's public cloud BSS with their 5G portfolio will prove to be most valuable. It can help CSPs monetize the new upcoming 5G businesses as well. Moreover, the core BSS functions such as charging system, convergent billing, and engagement platforms, fully align with the cloud-native, microservices architecture of 5G.
AI/ML Factor: AI & ML potential plays a massive role in expanding the BSS on the public cloud journey. It can help CSPs to gain a competitive edge in key areas such as real-time decisioning, predictive analytics, API testing, revenue assurance, experience management, fraud/anomaly detection, and minimizing time-consuming manual tasks, especially in public cloud environments.
The IoT Playfield: 5G-IoT monetization will be the most interesting section as cloud BSS is perfect to monetize and scale it. As IoT use cases depend upon global connectivity and local partnerships, cloud resources become fundamental in the approach.
B2C/B2B/B2B2X experience: Public cloud-based BSS helps CSPs to quickly deliver core functions like order management, catalogue-driven charging, and service level agreement (SLA) design to address B2B and B2X services with flexibility. Whereas for B2C, cloud-based interfaces and portals are required for intuitive experiences in turn for churn reduction and customer support due to missing and faulty info.
Supply Chain Reliability: Supply chain is a premium in the current pandemic and CSPs should have trusted cloud vendors which can minimize risks in this area that can impact IT and data center supply operations.
Is cost the biggest juggernaut for public cloud BSS?
Finally, one prime speculation in the market is that cost is the biggest juggernaut in public cloud deployment.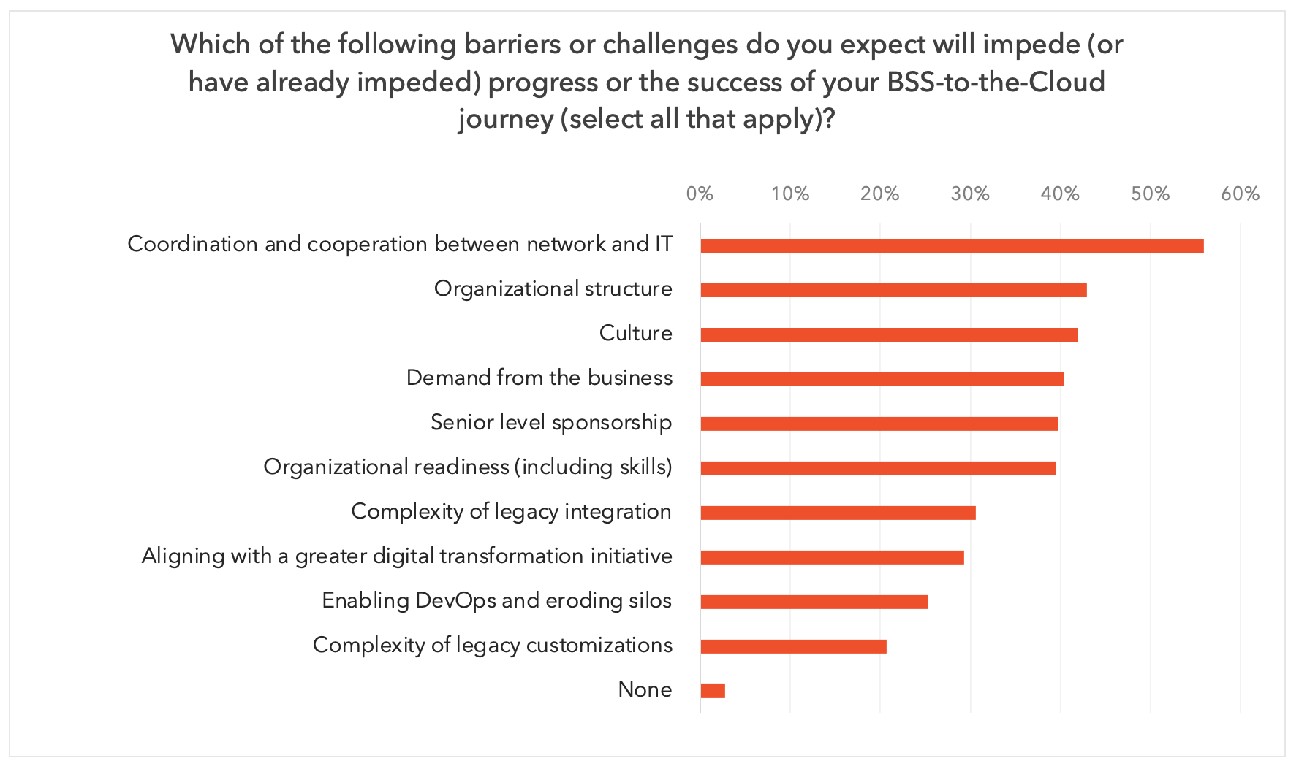 Source: Futurum
The above survey result by Futurum shows that for CSP decision-makers, the top-cited barrier to overcome is coordination between network/operations and IT. Be it, operation automation, 5G networking, or edge computing, it is important to keep business interest in check for all teams for seamless migration of BSS on public cloud.
Starting your public cloud BSS journey
So how to start your public cloud journey? STL provides the most optimized solution for the long run with innovative groundbreakers of cloud-native platforms and solutions on the public cloud. STL offers its digital BSS portfolio to deliver agility, scalability, simplified lifecycle management, and integrations to its customers with the best value TCO of 50% savings and 3x faster time to market.
STL's digital BSS portfolio includes cloud-native platform, cloud-native network service integration, digital policy control and charging, digital billing and revenue management, digital telco platform, digital enterprise platform solution and digital engagement platform.
We work with our customers and partners in applying the cloud native computing foundation based best practices and CKA/CKAD certified professionals to support their Public Cloud migration. 
For more information, please visit https://www.stl.tech/network-software-products/digital-bss-platforms/