Nokia announced the company's financial results for the first quarter 2021, registering a strong start to the year with constant currency net sales up 9% year-on-year, driven by strong growth in network infrastructure and solid growth in mobile networks; reported net sales increased 3%.
Enterprise constant currency net sales are up 18% year-on-year, as Nokia gained 63 new customers, more than doubling the number it added in Q1 2020; reported net sales increased 14%.

The company announced a comparable gross margin of 38.2% (reported 37.9%), reflecting improvements in mobile networks, mainly driven by 5G growth and favorable product and regional mix, and broad improvements across network infrastructure.

Comparable operating margin reached 10.9% (reported 8.5%), with improvements in comparable operating profit across all business groups, while comparable diluted EPS registered EUR 0.07; reported diluted EPS of EUR 0.05

Nokia recorded a strong cash flow performance, driven by operating profit and good collection of receivables.

Pekka Lundmark, president and CEO, commented on Q1 2021 results, "We have delivered a robust start to the year with strong net sales, operating margin and cash flow. Today's results demonstrate that we are on track to deliver on our three-phased plan to achieve sustainable, profitable growth and technology leadership as announced at our recent Capital Markets Day.

"I was particularly pleased by strong sales growth across our network infrastructure business group driven by increasing demand for next generation connectivity; good progress in mobile networks in securing full portfolio competitiveness; continued double-digit sales growth with our enterprise customers; double-digit sales growth in North America; and good net sales development for Nokia Technologies."

He added, "At this point we are maintaining our outlook for the full year, as we want to see how 2021 continues to develop. The solid first quarter provides a good foundation for achieving the higher end of the 7 to 10% comparable operating margin range. We expect our typical quarterly earnings seasonality to be less pronounced in 2021, and we continue to monitor overall market developments including visibility for semiconductor availability. I am proud of how we have continued to successfully deliver to our customers during the global semiconductor shortage. I want to recognize all the hard work that the Nokia team has put in and thank them for delivering such a strong first quarter."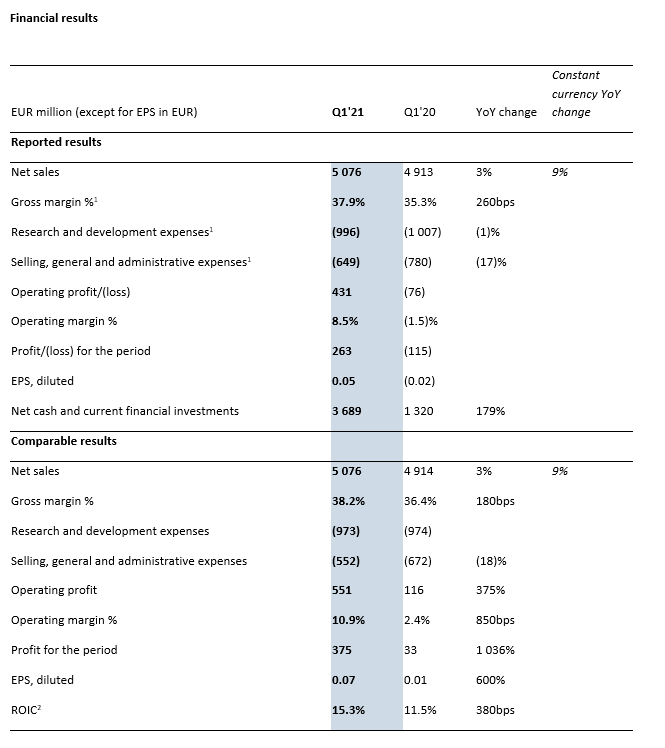 1) In Q4 2020, Nokia reclassified certain items of income and expenses from other operating income and expenses to the functions. The comparative reported results for Q1'20 have been revised accordingly. Refer to Note 1, Basis of preparation, in the Financial statement information section included in Nokia Corporation Financial Report for Q1 2021 for details.
2) Comparable ROIC = Comparable operating profit after tax, last four quarters / invested capital, average of last five quarters' ending balances. Refer to Note 10, Performance measures, in the Financial statement information section included in Nokia Corporation Financial Report for Q1 2021 for details.