In this exclusive three-part series, Telecom Review continues to share a comprehensive evaluation of the Q2 2023 performance of prominent global telecom vendors, including Cisco, Ericsson, Huawei, Nokia and ZTE.
In this installment, we review the financial performance based on the data gathered from Twimbit's analysis titled "Global telecom vendors update 2023."
The financial results of the top five telecom vendors in Q2 2023 underscore a blend of progress and challenges. Factors such as the rollout of 5G, regional dynamics, and strategic collaborations have played pivotal roles in shaping their performance trajectories. Collectively, the top five telecom equipment vendors recorded 5.4% growth on a constant currency basis. The revenue performance of these vendors during this period is summarized below:
Exhibit 1: Revenue Trends, YoY Basis, Q2 2023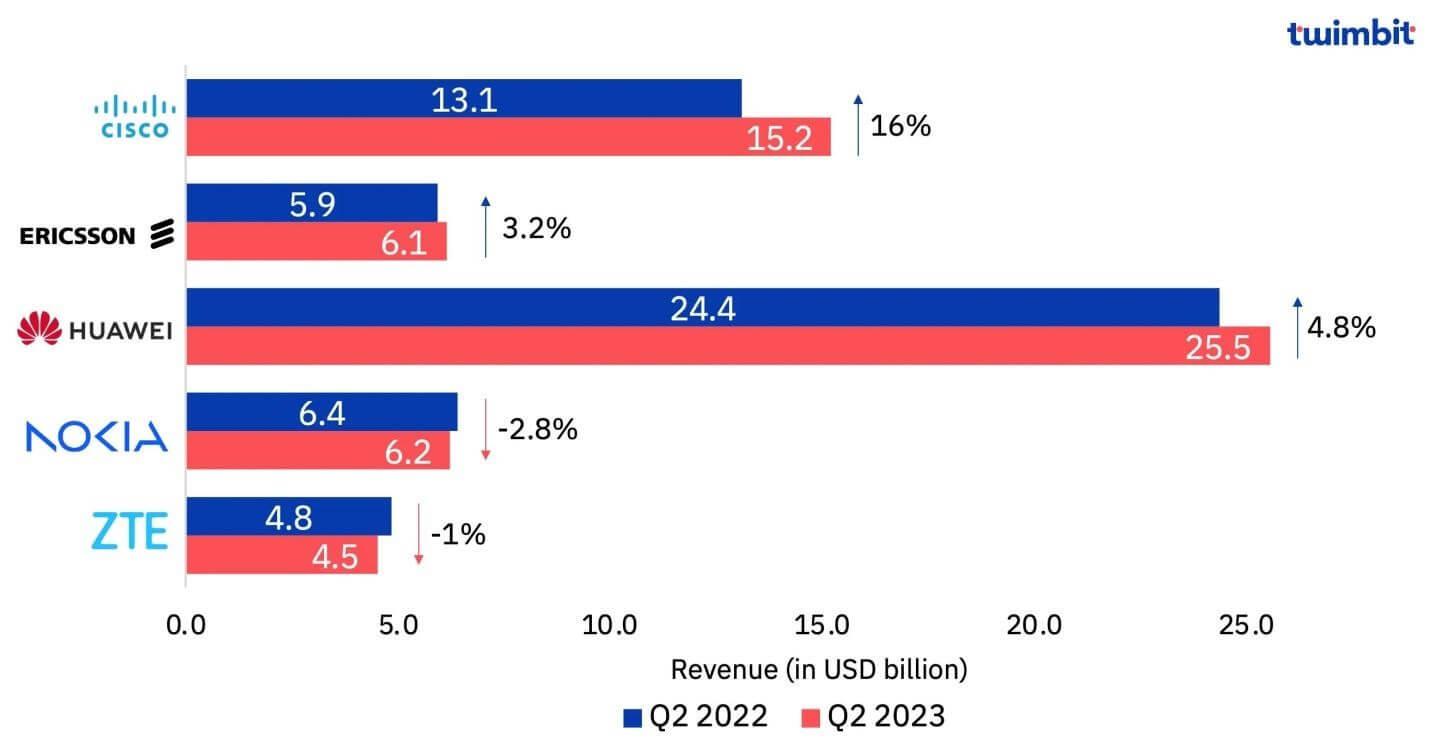 Note: 1. USD conversion is on constant currency basis.
Cisco's financial performance is from May 2023 to July 2023.
Ericsson and Nokia experienced robust growth in their enterprise businessess fuelled by the rising demand for 5G deployment. However, Cisco continued to rely on its carrier network business as a key revenue driver in Q2 2023, while its enterprise business witnessed a decline.
Exhibit 2: Revenue Growth by Customer Type, Q2 2023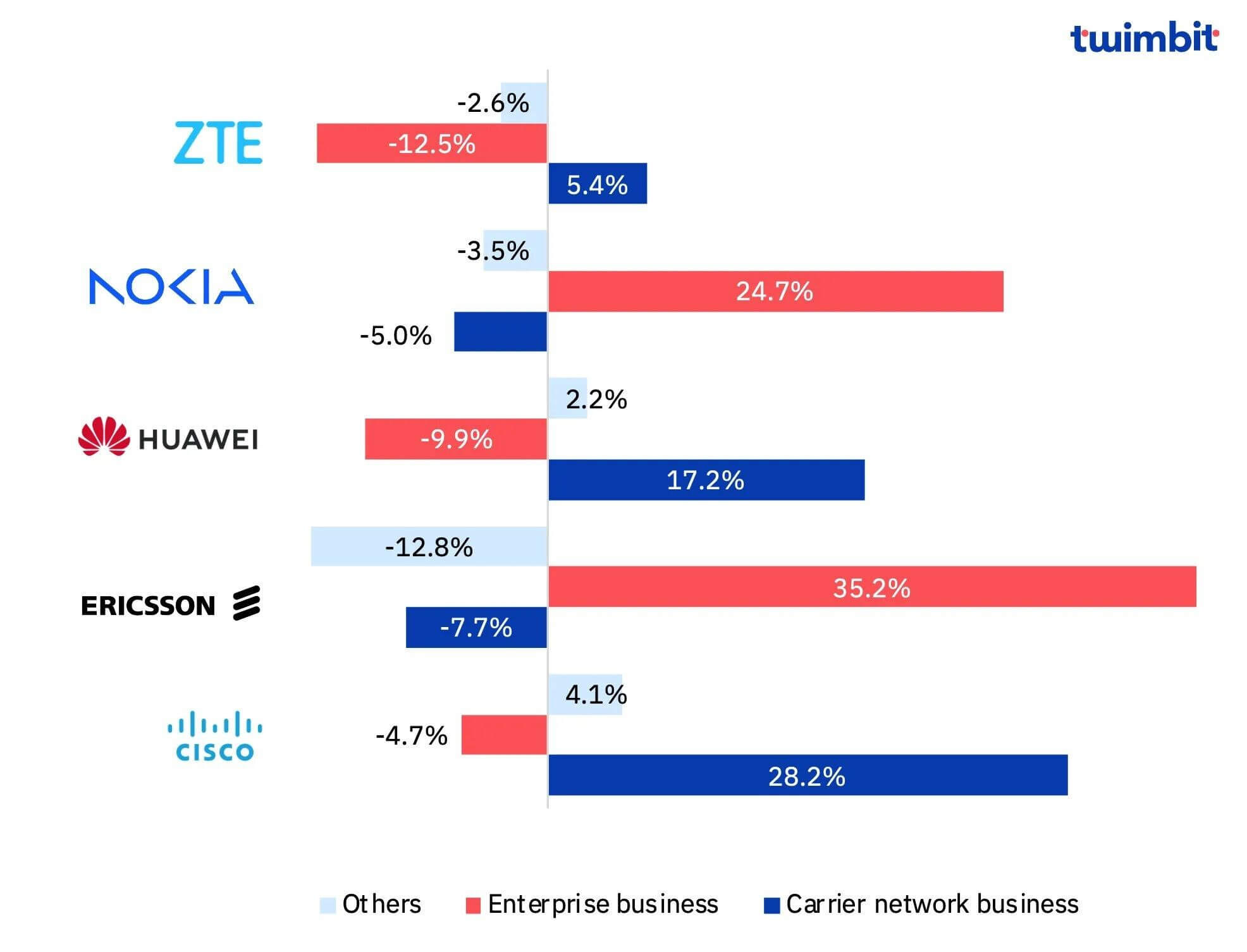 Note:  1. ZTE and Huawei segment revenue increase is for H1 2023 only.
Cisco's financial performance is from May 2023 to July 2023.
Cisco
Cisco demonstrated substantial revenue growth of 16% to reach an impressive US$15.2 billion. This surge was driven by a commendable 20.3% growth in product revenue, totaling US$11.6 billion, complemented by a 4.1% increase in service revenue, summing up to US$3.6 billion.
Cisco's carrier network business experienced a noteworthy growth rate of 28.2%. This surge can be primarily attributed to the Secure, Agile Networks within this segment, which took the lead, achieving a remarkable growth rate of 33.3%.
Ericsson
Ericsson achieved a robust revenue of US$6.1 billion, which incorporates a notable USD 0.4 billion contribution from Vonage, signifying a commendable growth of 3.2%. This growth trajectory was influenced by the strategic reshaping of Ericsson's business composition after the Vonage acquisition.
Capitalizing on its advanced 5G technology, Ericsson is strategically harnessing its potential to propel growth within its enterprise domain. Furthermore, the company is actively driving a cultural transformation, a strategic endeavor aimed at accelerating its growth trajectory and, in turn, shaping the landscape of the communications industry. Ericsson's enterprise division marked remarkable 35.2% growth, a figure inclusive of Vonage's contribution. However, when Vonage is excluded, the enterprise sector still achieved noteworthy growth of 29.4% when compared to the same period in the previous year. Besides that, challenges surfaced within Ericsson's carrier network division, primarily due to reduced sales in the Americas—a region that had previously thrived on 5G advancements. Similarly, the 'Others' segment experienced a decline, stemming from the divestiture of the IoT business in Q1 2023.
Huawei
Huawei achieved revenue of US$25.5 billion during Q2 2023, representing a substantial 4.8% YoY increase. Notably, the overall performance aligned closely with projected expectations.
Huawei's carrier network business generated revenue of US$23.9 billion in H1 2023 (Jan-June), an increase of 17.2%, while its consumer business grew by 2.2% to reach US$14.8 billion in H1 2023. Huawei's enterprise business faced a significant decline of 9.9%.
In the realm of Huawei's carrier network business in H1 2023 (January-June), this segment generated revenue amounting to US$23.9 billion, marking a surge of 17.2%. Similarly, Huawei's consumer business experienced growth, albeit more modest, with a 2.2% increase, resulting in a total revenue of US$14.8 billion during the same H1 2023 period. However, digital power and cloud businesses for Huawei experienced growth but were unable to offset the overall decline. Notably, Huawei's newly introduced components for intelligent connected vehicles continue to gain traction and competitiveness in the market.
Nokia
Nokia witnessed mixed headwinds in Q2 2023, with both positive and challenging dynamics. Notably, their enterprise division exhibited noteworthy growth, with a substantial increase of 24.7%. Similarly, their 'Others' segment saw a modest uptick of 2.2%. However, this growth was inadequate to offset the 5% decline in their carrier network business, ultimately leading to an overall revenue contraction of 2.8%. During this period, Nokia's revenue stood at US$6.2 billion.
Nokia's enterprise growth stemmed from gains in the private wireless sector, driven by double-digit expansion. Impressively, Nokia has amassed a clientele exceeding 635 private wireless customers, a testament to its position in the market. During Q2 2023, Nokia further solidified its standing by onboarding 90 new enterprise clients, thereby elevating its total customer count to over 685.
While Nokia's submarine networks faced a 15% decline, this was effectively counterbalanced by a 10% increase in their licensing business, thereby contributing to growth within their other segments.
ZTE
ZTE faced a blend of opportunities and challenges in Q2 2023, as its revenue reached US$4.5 billion in the same period, a decrease of 1% YoY. ZTE gets 71% of its revenue from the domestic market only.
ZTE's carrier network business showcased positive growth during H1 2023 (January-June), with an increase of 5.4%. However, this upswing was not adequate to offset the downturn observed in both their enterprise and consumer sectors. Specifically, their enterprise business faced a decline of 12.5%, while the consumer business saw a decline of 2.5% during the same H1 2023 timeframe.
Also read: Previously Published for Q1 2023 (vendors):
Telecom Vendors in Q1 '23: Positive Revenue and Enterprise Business Growth
Telecom Vendors in Q1 '23: Focus on Innovation With Increased R&D Spending
How Did Telecom Vendors Perform Across Regions in Q1 2023?
Also read: Previously Published for Q1 2023 (telcos):
Global Telcos in Q1 2023: Revenue Performance
Telcos in Q1 2023: 5G Deployments Continued to Increase CAPEX for Leading Performers