One of the keywords in the era of 5G is spectrum. Even though several use cases were developed and are trialed on a daily basis by leading operators and vendors and in spite of the fact that several operators have already launched the service, the issue of spectrum allocation still raises a dilemma. Despite Africa being quite behind in the race to 5G deployment, it has been calling for making spectrum available to expedite the development of the fifth generation technology.
2019 was set to be the deadline of 5G deployments across the world, notably in technologically-advanced countries. This year signaled the beginning of a new era where everything will be connected and internet will be incredibly faster. However, all of that is conditioned by providing timely and affordable access to the right amount and type of spectrum.
In fact, a combination of all three spectrum band categories – Sub-1GHz, 1-6 GHz and above 6 GHz – is needed to deliver best in class services. Sub-1 GHz band range includes refarmed (800/850/900 MHz) and new (600/700 MHz) bands, provides good 5G coverage and supports wide-area IoT among other specific use case. The 1-6 GHz mid-range spectrum bands provide good coverage and capacity which is most likely convenient for operators that will deploy 5G in the wider 3.5 GHz range. As for bands above 6 GHz in the mmWave range (16/18/40/50 GHz), they will be key enabler of ultra-high speeds. They have proven useful for short-range, high-capacity communication.
mmWave spectrum will be vital to deliver cutting-edge services, especially in the fields of industrial automation and intelligent transportation. According to a report by the GSMA entitled '5G in Sub-Saharan Africa: Laying the foundations', the Sub-Saharan Africa region is expected to deliver $5.2 billion in GDP as a result of mmWave 5G by 2034.26 Once 5G has taken off in Sub-Saharan Africa, the annual gain from mmWave 5G will grow much faster from 2026, closing the gap between early and late adopters.
The World Radiocommunication Conference 2019 (WRC-19) concluded recently where 3400 delegates from around 165 Member States signed agreements that were enshrined in the Final Acts of the Radio Regulations, the international treaty governing the global use of radio-frequency spectrum and satellite orbits.
WRC-19 identified additional globally harmonized (millimetre wave) frequency bands for International Mobile Telecommunications (IMT), including IMT-2020 (otherwise known as 5G mobile), facilitating diverse usage scenarios for enhanced mobile broadband, massive machine-type communications and ultra-reliable and low-latency communications. This will unlock a host of applications facilitating Intelligent Transport Systems, creating smart cities and making communities more sustainable while allowing for effective climate action, improved health care, sustainable agricultural practices, and greater energy efficiency.
"The hard won agreements at WRC-19 will favourably impact the lives of billions of people around the world, creating a digital landscape for sustainable growth and development," said Mr Mario Maniewicz, Director of the ITU Radiocommunication Bureau. "The achievements of WRC-19 in enabling new communication technologies and the protection of existing services will be reflected in the continuous growth of the trillion dollar telecommunication and ICT industry."
WRC-19 identified additional bands for IMT in the 24.25-27.5 GHz, 37-43.5 GHz, 45.5-47 GHz, 47.2-48.2 and 66-71 GHz bands, facilitating development of fifth generation (5G) mobile networks.
To ensure investment in Africa, regulators have to make sure that spectrum is available in a timely manner to enable innovation and competition and to ensure 5G services benefits to consumers, businesses and industries. The spectrum available for 5G will vary from market to market, according to whether it is already in use and the timing of auctions and licensing processes.
Spectrum prices
Operators in Africa are concerned about 5G spectrum prices that may not be affordable. GSMA Intelligence research shows that mobile operators in developing countries already pay three times more for spectrum compared to operators in developed markets once income levels are taken into account. Auction reserve prices in developing countries are five times higher than in developed markets once income differences are considered.
GSMA's report outlines the best practices related to spectrum pricing as follows:
Set modest reserve prices and annual fees, and rely on the market to determine spectrum prices. 5G spectrum in 3.5 GHz and the mmWave bands have inferior coverage capabilities and are likely to be made available in larger quantities. These need to be factored into the price, including any spectrum fee formulae.
Avoid limiting the supply of spectrum as scarcity can lead to excessive prices. A particular concern is set-asides for verticals or new entrants in core 5G bands (e.g. 3.5 GHz and 26/28 GHz).
Carefully consider the auction design to avoid unnecessary risks for bidders (e.g. avoiding mismatched lot sizes, which create artificial scarcity, and first-price, sealed bid auctions).
Develop and publish a spectrum roadmap with input from stakeholders to help operators plan for future availability.
Consult with stakeholders on the award rules as well as the license terms and conditions, and take them into account when setting prices.
Market readiness
The GSMA has developed the Basic, Economic, Market, Enterprise, Consumer, Spectrum (BEMECS) indicator framework that evaluates 5G market readiness of more than 160 countries, 37 of which are located in Sub-Saharan Africa. The indicator uses a traffic light system (Green=Ready, Amber=Getting Ready, Red=Not Ready) to analyze the indicators.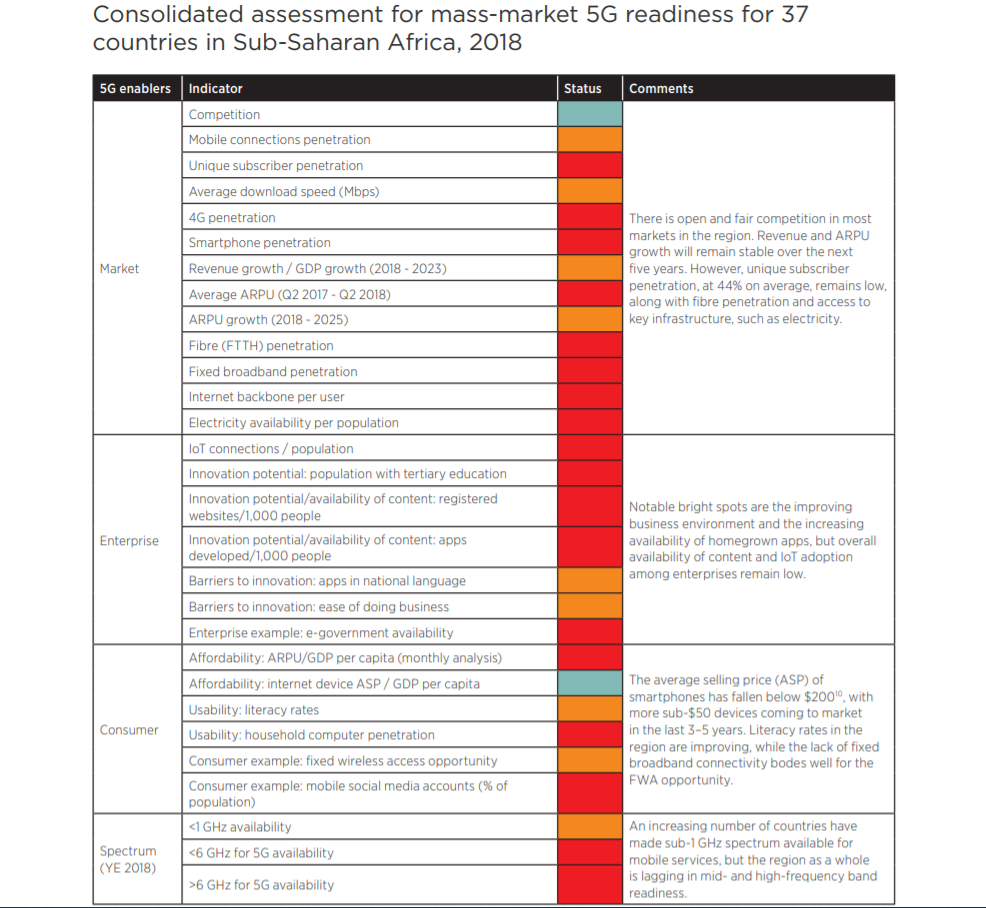 Source: GSMA
The Index shows that the region is not ready yet for 5G given that most markets are still in early stages of mass-market 4G deployment. Furthermore, the availability of key 5G spectrum is limited. Even though 5G readiness at the country level is still far from being achieved, it is possible at the city-level is many countries where 5G capabilities are needed.
Moreover, as the rate of urbanization increases, 5G can play an essential role in addressing network congestion in cities as part of the infrastructure options to support high traffic density. According to the McKinsey, urbanization in Africa will grow from 38% in 2015 to 55% in 2050, while around 100 cities in the region will have more than 1 million inhabitants by 2025.
Some countries, such as South Africa and Kenya, are moving quickly towards a state of readiness, which will become evident nearer to 2025. By 2025, there will be 28 million 5G connections in the region, equivalent to 3% of total mobile connections, with commercial services available in at least seven markets, including Kenya, Nigeria and South Africa.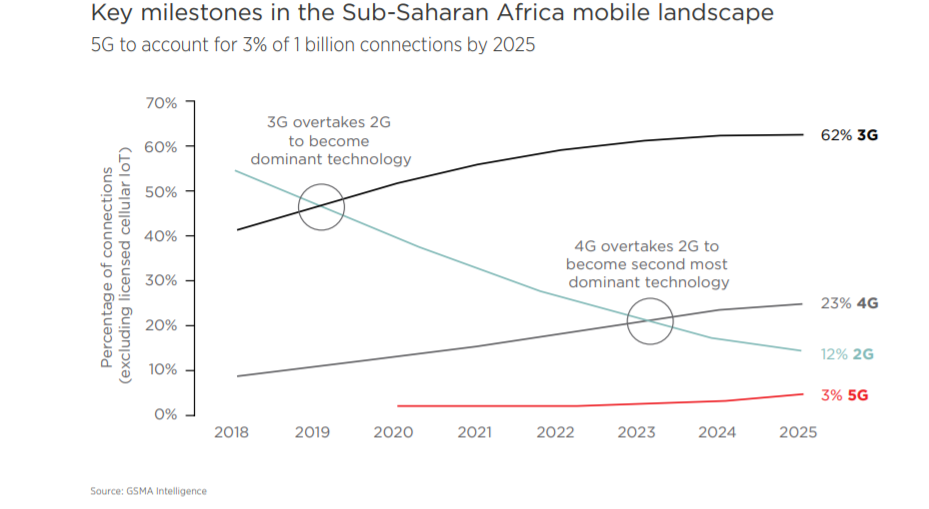 Regulatory requirements
While industry players strive to address the spectrum issue, a regulatory framework seems necessary at this stage to be able to keep pace with the industry developments and accelerate investment in infrastructure. Policy makers should work on reducing regulatory costs for operators which will put forth the suitable conditions for efficient and timely next generation network deployment.
For 5G networks to support urban capacity demands, new investment should be made in terms of sites and infrastructure including fiber as backhaul. The deployment of 5G will require a significant increase in the number of small radio cells – likely to be located on street furniture, the sides of buildings etc. - in order to facilitate the requirements of 5G networks.
Tower companies have grown significantly in Sub-Saharan Africa over recent years and are likely to play an important role in moves towards network densification and 4G build-out, as well as supporting the early phases of 5G deployments. It is likely that a range of new commercial agreements on active and passive sharing will facilitate 5G deployment.
South Africa drafts clear spectrum roadmap
The Independent Communications Authority of South Africa (ICASA) released on 1 November its promised information memorandum on the licensing process for high-demand spectrum which will allow mobile operators to roll out both 4G and 5G infrastructure.
"We invite all interested parties to take the opportunity and make submissions to this process. It is in the spirit of administrative justice and fairness that we consult stakeholders so that we can have their views on this imminent licensing process," says Dr. Keabetswe Modimoeng, ICASA Acting Chairperson.
The release of high demand spectrum is also an important step that gives effect to government's policy objectives of ensuring broadband access for all, transformation of the ICT sector, reduction of costs to communicate (particularly data costs), promotion of competition in the ICT sector and stimulation of inclusive economic growth.
"It has been quite a lengthy period of time towards the assignment of high demand spectrum due to some or other challenges we faced as the regulator. However, with the release of the policy direction in the recent past, there is no justification to delay any further," concludes Dr. Modimoeng.
ICASA gave stakeholders 31 January 2020 as deadline to make written submissions on the views expressed in the Information Memorandum. Given that the Information Memorandum is the initial step, and in light of the past delays in the assignment of spectrum, the Authority urged stakeholders to make their submissions within the stipulated deadline for submission of representations on the Information Memorandum.
The memorandum reads, "There is a need to assign a minimum of 1011 MHz and a maximum of 1036 MHz for use by IMT (incl. GSM) by 2020 to achieve SA Connect targets. It is the Authority's position that the licensing of IMT700, IMT800, IMT2300, IMT2600 and IMT3500 will contribute a significant bandwidth towards achieving the SA Connect targets."
According to the information memorandum, the IMT700, IMT800, IMT2300, IMT2600 and IMT3500 bands have been identified worldwide for IMT services. These bands complement each other in terms of providing capacity and coverage in both rural and urban areas. That's why the Authority decided on the simultaneous licensing of these bands to enhance competition and increase broadband coverage which will bridge the digital divide between urban and rural access to broadband networks.
ICASA mentioned in the memorandum that the proposed spectrum for award is packaged in 5 options.
At AfricaCom 2019, MTN CEO Rob Shuter highlighted the challenge of spectrum allocation in Africa. He said, "The MTN business has been working with the same spectrum allocation for decades, a situation which cannot continue. More spectrums are needed".
Vodacom had also called to accelerate the process of 5G spectrum licensing in South Africa, arguing that its urgent allocation is needed if South Africa is going to take advantage of the so-called fourth Industrial Revolution. Vodacom CTO Andries Delport said that the country should not miss out on 5G.
"In 4G, as a country, we missed the boat completely. I would not want that to happen with 5G," Delport said. "The possibility of refarming with 4G is not there with 5G," he said. "If we miss the 5G spectrum boat, the country will miss out on 5G." 
Operators in South Africa are forced to refarm their 2G and 3G spectrum assignments to roll out 4G because no spectrum was officially assigned for 4G/LTE networks. The problem is that the bands used for this purpose— 900MHz, 1.8GHz and 2.6GHz — are not yet supported by 5G technology, so refarming is not an option.
Currently, only Telkom and Liquid Telecom have assignments around 3.5GHz and ICASA is already in the process of considering how those assignments should be amended to ensure they are suited to 5G roll-out.
5G deployment in Africa is a question of when rather than if. Even though the market is not ready yet for the advent of the fifth generation network, however key elements are adding up which will sooner or later complete the 5G puzzle.
As operators increase coverage and capacity of their 4G networks, they are also invited to invest in the latest LTE-Advanced technologies such as carrier aggregation and massive multiple-input multiple-output (MIMO). The virtualization of network management through software-defined networking (SDN) and network function virtualization (NFV) will also enable network slicing in 5G.
The prospect of running a combined 2G/3G/4G plus 5G network will pose an operational challenge to operators in the region. Operators will have to manage legacy networks, integrate them with the new 5G network and face the challenges that come along the way.
For a smooth shift to 5G, a clear roadmap is the answer to everything. Industry players will have to adapt to the change, each at its own pace, but eventually they will all be able to deploy the technology.